Trading Psychology
The Mental Side Of Trading
Here we will be looking into the ALL IMPORTANT issues of the Psychological areas that impact us in all our trading decisions…
This sadly in an area that is largely overlooked by many traders…particularly new traders
We believe it is absolutely imperative to put in the time and effort to find out
What our Individual personal traits and strengths and weaknesses are
 What our personal risk tolerances are
How much time do we have available each day / week for trading
What part of the world do we live in relation to when the major markets are open and trading the strongest
How much capital do we have available for our trading bank that we can make available based on the balance of the above all things considered
What type of trading Method or System should we be trading when we really take into account all of the issues
Please put in the effort to work through all of these issues it is critical to our trading success
Here is a link to some great  4-Minute Drills for Traders or click on the image below of Norm Hallett's TheDisciplinedTraders
Free 4  minute Drills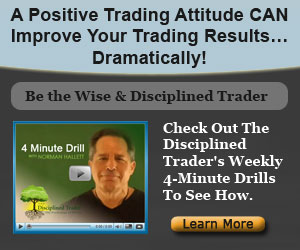 And here is a link to his        The Disciplined Trader Mastery Kit™
Believe me when one migrates from Demo Trading to real $ money trading our Trading Psychology changes Big Time and we start doing things different to what we managed to achieve in Demo Trading
Click on the Banner below for a very special monthly membership offer to ..



For that reason I believe that trading with real $ money as soon as possible makes sense. Especially as one can open a Live Trading Account very easily at any one of many different Forex Trading Brokers with a very small amount of starting capital ($100 to $250 usd) and then trade with very small pip values until one gets used to trading with real $ money and is trading consistently profitable. Then and only then increase your capital maybe if you are truly confident in your trading method/systems and Yourself
Or What About some Quick Trading One Minute Audio Tune Ups
iPhone/iPad App – Mastery Minute for Traders
Ever had the frustration of watching a single trading mistake erase ALL your profits for the day, week, or month?
If you're sick and tired of this, then maybe you need to Download this Free app "Mastery Minute for Traders."
Start your trading day with one of Norm's one-minute audios (in effect, a 'mental vitamin'), and you'll be energized and motivated to stay disciplined and follow your trading system throughout the entire trading day.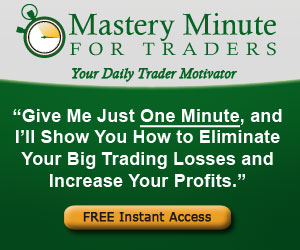 In these motivational audios, you'll discover:
•How To Pull the Trigger Without Hesitation
•How To Trust Your Trading Plan
•Why Small Losses Equal Big Gains
•How to Implement Better Risk Management
•How To Trade With Confidence
•How To Have a Positive Expectancy
•and much more!
Stay Profitable
TheDreamingTrader (TDT)